Listen and Subscribe to The 905er Podcast:
Three Ways To Help Build the 905er:
Listen to the 905er Podcast and make sure you're subscribed to get notified of new episode every Tuesday.
Never miss an episode ...
Do you have a story you think we should be covering?
Are you passionate about our region and want to help shape its future?
Get in touch...
The 905er needs you!
We think we're doing something important, but we can only do it with your help.
Find our how.
Other News & Opinion
We're not just a podcast ...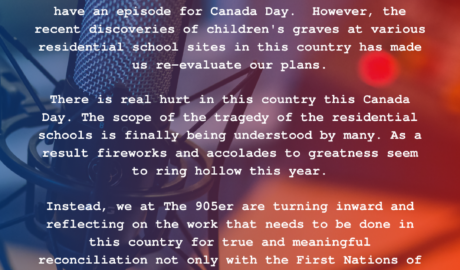 Please see above for our reasons why we decided not to the post an episode this Canada Day. We invite you to read up on the Truth and Reconciliation report here to learn about the recommendations put forward by the commission here: http://trc.ca/assets/pdf/Calls_to_Action_English2.pdf For more information on Reconciliation please visit: https://reconciliationcanada.ca/ If you seek counselling in relation to your experiences with the residential school system, we suggest you reach out to the National Indian Residential School Crisis Line. They can be reached at: 1-866-925-4419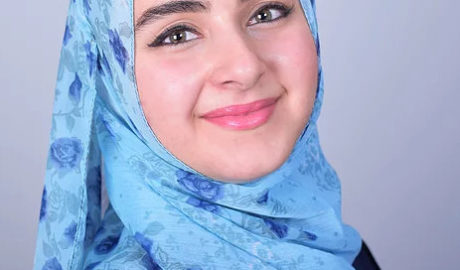 The members of Burlington's Ontario Liberal riding association selected Mariam Manaa to be their candidate for the 2022 election last night.
The contest was between Manaa and Andrea Grebenc, Chair of the Halton District School Board, and the result may be considered an upset with the little-known Manaa emerging the winner against an opponent with an established local profile who had won two previous elections.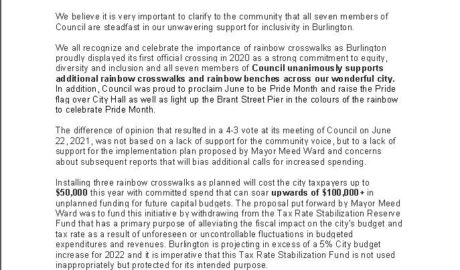 Three of Burlington's seven member council have issued a strongly worded rebuttal that appears to be a response to a message sent at 6:40am this morning by Mayor Marianne Meed Ward via her Twitter account. The tweet tacitly stated that three unnamed councillors, who could be deduced to be Councillors Lisa Kearns (Ward 2), Shawn Stolte (Ward 4) and Paul Sharman (Ward 5), had voted against additional Rainbow Crosswalks in Burlington.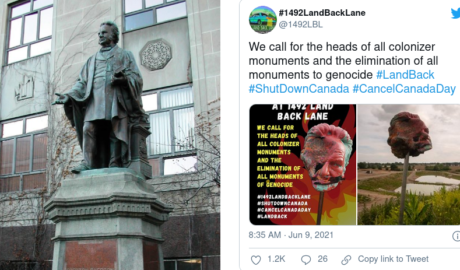 Statues are not history, and few things are more boring to historians than statutes of Victorian worthies … right until the moment they are pulled down.
Among the hysteria about "cancelling Canada's history", millions are learning important facts about Canada's past. So is it history the statue-defenders want to protect? Or a mythological past that hides the brutal truths?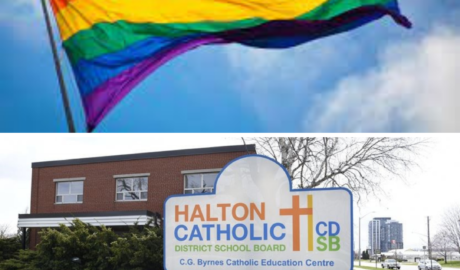 The Halton Catholic District School Board is facing some serious repercussions from it's decision not to fly the pride flag this June. On June 1st the Ontario Human Rights Commission sent a letter to the board, addressed to Chair Patrick Murphy as well as Education Director Pat Daly. In the letter the Commission took specific issue with the debate and ultimate refusal of the Board to fly the flag at its schools. While praising the Halton Catholic Board for taking action to promote safe spaces within schools, and to implement LGBTQ2S+ awareness for it's staff, it stated "Nonetheless, the OHRC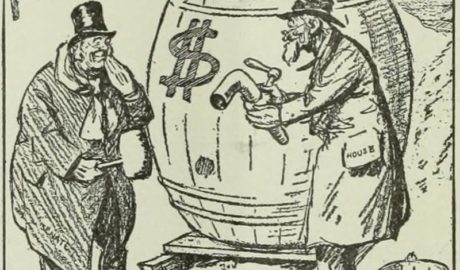 What might cost thousands or even millions in the US costs at most a couple of hundred bucks here in Canada.
Donor limits don't take the impression of 'cash for influence' out of politics, they just make it much cheaper.
So how can we fund parties in a way that makes political finances above suspicion?