On Thursday, December 17th, the Halton Regional Chair and the four regional mayors issued a public letter arguing Halton be exempted from a rumoured GTHA-wide lockdown, claiming to base their request on scientific evidence and the advice of the Halton Medical Officer of Health (MOH).
By Monday afternoon, December 21st, at least two of those mayors had issued letters stating their support for the province-wide full lockdown announced by Premier Doug Ford.
Far from being exempted from a GTHA-wide lockdown, Halton will now be part of the province-wide lockdown scheduled to begin on Boxing Day. If the mayors' support of the lockdown looks like a U-turn, that's because it is.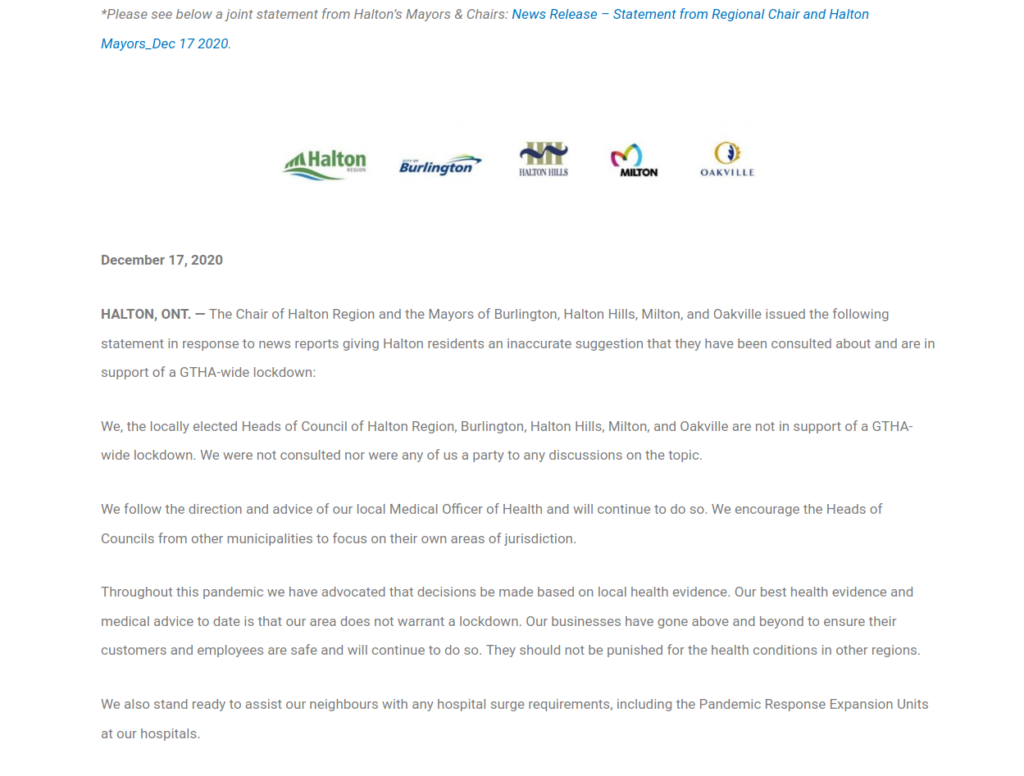 Arguments about the province's shameful teasing, leaking and final release of the news of lockdown over three days, while Ontarians rushed to packed stores in fear they might be closed at any moment, can be made elsewhere, as can the concerns about lengthy delays between announcements of restrictions and their actual implementation – facts that simply encourage people to get their shopping and family meetings in while they can.
What matters here is that on Friday Halton's leaders said one thing, and Monday two mayors – Mayor Marianne Meed Ward of Burlington and Mayor Rob Burton of Oakville – are saying something else.
Mayor Meed Ward released a statement at 1pm saying
"I support additional measures to curb the spread of COVID19. Speaking with the President/CEO of Joseph Brant Hospital on the weekend, we're supporting communities around us, so it's critical to bring the numbers down across the entire GTHA region. It's also clear the current measures in lockdown areas are not sufficient – their numbers are not coming down."

mariannemeedward.ca
Mayor Burton followed at 4pm, stating:
"On behalf of Oakville Town Council, Staff, and residents, I offer support for the Ontario government's decision to enact a general lockdown across Ontario to bring back down the speed of spread of the coronavirus pandemic."

"Clearly, the virus is spreading so fast now these measures are needed."

Twitter.com/oakvillemayor
Both these statements ignore the fact that nothing has changed since Friday that can remotely explain such a fundamental change of direction. Ontario's numbers were bad then, and they are bad now.
Halton's Statistics Are Not As Good As We Think
Meanwhile, Halton's Covid-19 numbers, while better than some of our neighbours, are only 'good' when viewed side by side with raw numbers from neighbouring regions. According to the key epidemiological indicators being used across the country, Halton's numbers are the worst they have ever been, and are worsening rapidly. When they are removed from the context of the rest of the GTHA, they are nothing to be proud of.
In October, when the mayors first intervened requesting special treatment, they claimed Halton's cases were 'declining'. They were wrong. The numbers were increasing, and have increased steadily since. Halton's seven day rolling average today is at 76 cases a day, with a worrying 85.3 weekly incidence rate per 100,000. That's well over triple the 'trigger' number for additional measures suggested by Ontario Public Health of 25. On Sunday, by the province's count, Halton had a record 97 new cases.
With Toronto and Peel seeing between 400 and 800 new cases a day, Halton's 60-80 cases a day in recent weeks seem negligible. The suspicion is that this raw statistic has been driving the mayors' campaign to have Halton treated differently. But, if so, they are acting on a mathematical error so basic that a child of 10 would be embarrassed to make it.
Those raw numbers take no account of population. When adjusted to cases per 100,000, yes, Halton's numbers are still a little better, but not hugely so. In fact, in the last week both Halton and Hamilton have largely caught up with Toronto – yes, Toronto – at the same time as the 416 experiences its worst level of new cases per 100,000 of the entire pandemic.
In fact Halton, Hamilton, Toronto and York have been engaged in a four way race for weeks for worst new case rate, with each region, including Halton, taking top billing at least twice. Only Peel Region is a clear outlier. While Halton's numbers have trended lower than other regions, the statistics are becoming more and more volatile, and the differences between regions harder and harder to see.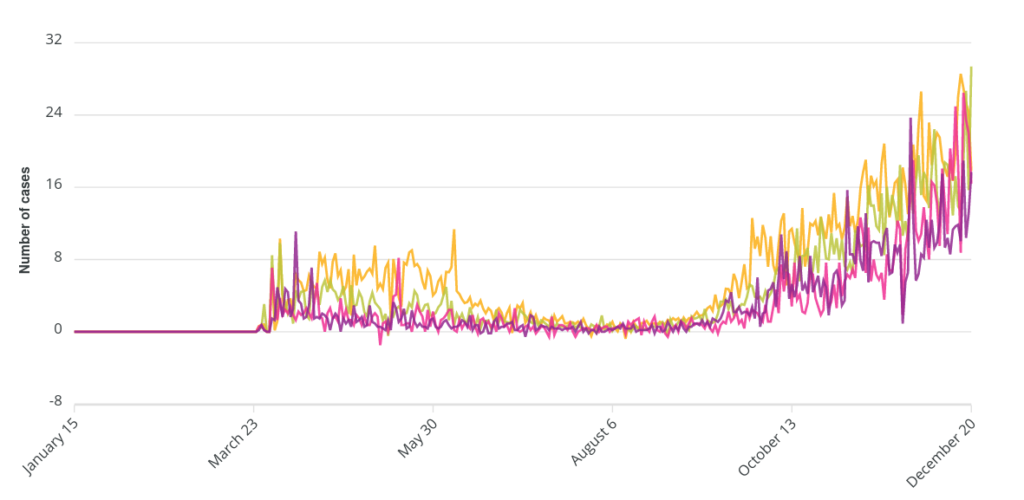 On Thursday it was unthinkable to the mayors, based on scientific evidence, that Halton should be included in a GTHA lockdown. Today we are asked to believe that it is suddenly the prudent decision, based on the same scientific evidence, to close down the entire province. How can this be interpreted as anything other than the result of a foolish mistake that both undermines public health advice and adds to the overall confusion surrounding the actions needed to bring Covid back under control.
Gary Carr, Rick Bonnette, Gord Krantz, Marianne Meed Ward and Rob Burton all made a mistake in October, doubled down on the mistake, and then made the same mistake again last week. All while seeing Covid numbers grow exponentially, people travelling into our region in pursuit of gyms, restaurants, shopping and laxer regulations, crowds forming in stores and numbers reaching a point where a larger provincial lockdown became unavoidable.
'First, Do No harm'
Back in April, our mayors were zealous in asking us to stay at home. Mayor Meed Ward, took to the streets of Burlington on April 5th with a megaphone and a CHCH camera crew ready to publicly shame any citizens engaged in irresponsible activities like walking through parks. She was far from alone in taking a hardline stance, and overall she was right to do so, even if the scientific evidence was already suggesting that outdoor public spaces were not where spread was happening. In the weeks that followed, she and the Burlington emergency planning committee were reluctant to do anything that might encourage residents to walk or cycle more freely on streets devoid of cars, or to help families in apartments or condos to have somewhere to exercise.
But far better to be that mayor – the mayor who was perhaps a little too zealous to keep people indoors – than the mayor we have now who, together with Gary Carr, Rick Bonette, Gord Krantz and Rob Burton, has waged a fruitless and counterproductive campaign to keep businesses open in the face of out of control spread of Covid-19.
So Halton mayors, please. It's time you learned from the doctors – think before you speak, and ask if your words are really guaranteed to first, do no harm.