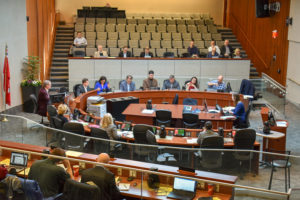 Hamilton councillors couldn't talk about a $3.1 billion investment in their city without first losing quorum and then voting to defer any decision when they got too close to dinner time, thereby risking losing control of the entire LRT approval process until after the approaching summer recess. What is it about Hamilton council that means they can't even seem to stay in the (virtual) council chamber for long enough to do anything?
A non-905 city you may have heard of thought it would plan for the thing their city very much lacks – a major landmark central park. Then LPAT did what LPAT does – made city planning decisions and local democracy a waste of time. Will any provincial party put LPAT reform on its platform for the 2022 election?
If HCDSB thought their Pride Flag decision would be yesterday's news in a couple of days, they were mistaken. Now the Ontario Human Rights Tribunal are involved. And guess where Burlington residents think the best place to put a new rainbow crosswalk is?