This episode was recorded before the hate-fuelled killing of a four members of a Muslim family in London, Ontario. We added a short pre-amble in light of that horrific event.
---
[First broadcast June 8th 2021]
Our guest this week is Graham Crawford, one of the leads and spokespeople of iElectHamilton.ca, which was launched two weeks ago. In two short weeks, iElectHamilton.ca has provoked a wave of positive support from many Hamiltonians, and a storm of angry reaction from some of the city's political grandees. It has already been described as a leftist takeover by university elites, and for being unfairly hostile to delicate incumbent councillors who just want everybody to be positive.
Please don't forget to share on social media and review the 905er podcast, wherever you get it. If you'd like to be part of the 905er journey, and help us grown into a valued voice for our region, please consider supporting us at Patreon.com/the905er.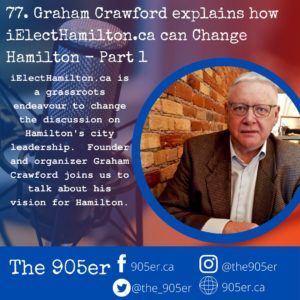 Special Thanks
Sound editing: Nicholas Paul
Intro/Outro music: The Stereophonics